Let's be honest, when it comes to clothing style, its the silver screen that we collectively look to for inspiration. I myself have been heavily influenced by the greats revealing their style genius for all of the world to see while glittering upon the movie screen. Both of my prom dresses were influenced by Grace Kelly in two of her three Hitchcock films, "Rear Window" and "To Catch a Thief." I was so inspired by Faye Dunaway's character in "The Thomas Crown Affair," that I started to wear plum eye shadow for a good period of time, including my senior pictures. As a whole, my own style evolved from the screen goddesses of yester-year. Do you own a little black dress in your closet, because if you do, (if not then you absolutely need to go get one!) you can thank Audrey Hepburn in "Breakfast At Tiffany's" for that. For all of you gents out there, how about the ever popular grey suit? That goes to Cary Grant in North By Northwest. Styles and trends were born with the fabulous actors gracing the silver screen and will continue to do so for as long as fashion and movies are around. Below is a list I created of the top stylish movies of all time. Note, not fashion, but style. The two are different beyond measure. Yves Saint Laurent said it best, "fashion fades, style is eternal."
Listed are number 20 all the way through number 1, which is a movie that not only has great style, but also some of the best actors that have ever lived, not to mention the best director. Be inspired and enjoy!
20. The Godfather Part II (1974)
Yes, there were three Godfather movies, but this one shines above the rest with the stunning three piece suits and ascots worn by Al Pacino.
19. Designing Woman (1957)
Lauren Bacall really delights in this comedy as a high society clothing designer with her chic 1950s clothing and her dreamy feminine apartment with white trimmings in gold and splashes of pastel color throughout. Helen Rose created the costumes for the movie with Lauren going through 30 clothing changes, all perfectly coordinated of course.
18. A Single Man (2009)
Tom Ford, famous menswear designer, directed this stylish movie and created looks for the characters with the help of Arianne Phillips. Quint essential 1960s silhouettes, and that pink cigarette, take the audience back to the swinging decade.
18. American Gigalo (1980)
Two words, Giorgio Armani. He was just starting out at the time and was chosen to do the wardrobe for the movie. Trench coats and the chic business casual attire set the pace for the 1980s mens look.
16. The Devil Wears Prada (2006)
The film, filled with the likes of Chanel, Calvin Klein, and Yigal Azrouel, splashed onto the big screen showing the audience the inner workings of a high fashion magazine while dazzling the eye with contemporary and classic styles all the employees wore. Mostly Chanel by the way, which, needs no further reasoning.
15. Clueless (1995)
No film had a bigger impact on 90s teen styles more than Clueless. Knee socks, simple spaghetti strapped dresses, and white collarless shirts became the cool style to have.
14. Casablanca (1942)
Orry Kelly created the costumes for the film. Let's just say white jackets come to mind when thinking of this movie. Humphrey in his white dinner jacket and Ingrid Bergman in her white skirt suit.
13. The Awful Truth (1937)
As soon as Irene Dunne enters through the door with her white fur coat engulfing her petite frame, you simply cannot take your eyes off of her. Robert Kollach created the perfect picture of 1930s glamour style from silky evening gowns with nipped in waists to topcoats and tux's.
12. The Philadelphia Story (1940)
Adrian Adolph Greenberg created the glamour and goddess, independence and self-possession style themes throughout the movie. The highlight is a floor-length white silk gown with Art Deco inspired gold sequin beading across the sleeves and bodice. The embellishment recalls Greek key motifs, a visual reference to the untouchable goddess theme that underpins Tracy's character. The sleek silhouette draws from popular 30's styles, with a nipped-in waist and tapered sleeves with extended, fitted cuffs. Understated and sophisticated, the dress exudes aristocratic old money and modern independence.
11. Dr. No (1962)
The first Bond film to launch the franchise, Sean Connery's James Bond embraced his signature brand of sportswear in a palette of pale blues and navy, as well as his black tuxedo. Costume designer Tessa Welborn created the look which still is carried out today.
10. North by Northwest (1959)
An interesting note to this movie is the input both stars, Cary Grant and Eva Marie Saint, had in picking out their wardrobe. Hitch disliked the costumes MGM picked out for Saint, so he took her to Bergdorf Goodmans for a shopping spree. Grant had direct input with Kilgour in London, to specially create the silver-gray, slim-cut, ventless suit he is seen to wear mostly in the film. The suit which GQ rated as the best suit in film history.
9. Sex and the City (2008)
Patricia Field, who also worked on the tv show, mixed high fashion with low in creative ways, instructed us that an outfit starts with the shoes, and that flower pins are really cool. Two labels that lead the pack in the movie, none other than Manolo Blahnik and Chanel.
8. Breakfast At Tiffany's (1961)
Audrey Hepburn wore the little black dress and the rest, as they say, is history.
7. Skyfall (2012)
Tom Ford's suits were front and center in the 50th anniversary movie of the Bond franchise. Jany Temime wanted to create a slightly different feel for Bond in the cut of the suit and the way they fit Daniel Craigs body, but also have the same look since it is such an iconic character.
6. The Great Gatsby (2013)
Catherine Martin worked along side the likes of Prada and Brooks Brothers and put the Great in Gatsby. She won the 2014 Academy Award for her work in the film. 1920s glitz and glamour, vibrant and full of energy, feathers and diamonds, tailored suits and tuxes, all make up the feel of excess for the style. Tiffany & Co supplied the never ending jewels.
5. The Women (1939)
A movie about men and fashion, with no men in sight. Adrian Adolph Greenberg created the look for each woman in the film, even going as far as to have a fashion show sequence in color apart from the rest of the black and white film. Smart tailored suits, country chic, frills and bows, and gaudy gowns make up the look for this classic.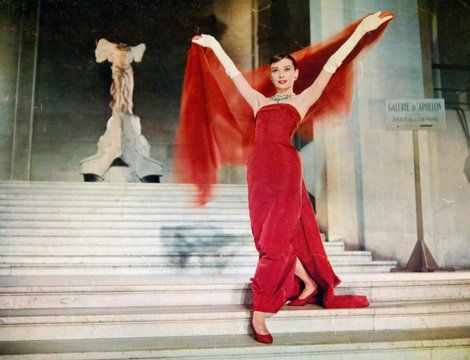 4. Funny Face (1957)
Audrey Hepburn. Need I say more? Costume designers Edith Head and Hubert de Givenchy were Academy Award nominated for their work which featured monochromatic ensembles paired with striking Parisian gowns.
3. Vertigo (1958)
Edith Head created one of her most talked about looks for this movie, the white full length coat Kim Novak wears. The clothes represent each characters identity, specifically Judy/Madeleine. Judy wears the sophisticated frocks, while Madeleine, her "other half" wears unflattering pieces. Scottie's obsession in recreating Judy, makes Madeleine change her entire look and wardrobe to appear as Judy. The famous gray suit, though Kim was against it, represents modesty and Hitchcock was insistent about having it in the movie.
2. The Thomas Crown Affair (1968)
Steve McQueen and Faye Dunaway shine on celluloid with debonair 3 piece Gatsby-esque suits and sexy skirt suit outfits, mini dresses, and incredible hats. Why do we not wear hats anymore?? Theadora Van Runkle created more than 29 costume changes for the leads, giving them each a distinct look they would carry with them for the rest of their lives.
1. Rear Window (1954)
Costume designer Edith Head and Grace Kelly make for one dynamic duo in this masterpiece of suspense and style. Grace's elegant 1950s wardrobe is timeless and effortlessly chic inspiring countless numbers of celebrities today. With her pearl necklaces, and "straight off the Paris plane," her style is of class and wealth. The black, deep v neck dress, with white frothy chiffon, is arguably one of the most famous of the 50s decade. Her other looks of a black chiffon dress, celery green skirt suit with a silky halter top, exquisite silk negligee, printed day dress with a nipped waist, and her final mens wear inspired watermelon colored shirt, jeans, and Gene Kelly type loafers, complete one of the most perfect and elegant wardrobes in film history.